Posted on April 6, 2022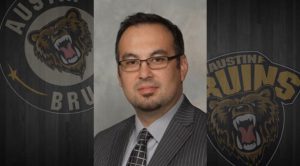 We are truly excited to announce that Steve Howard, Head Coach of the Austin Bruins (NAHL) will once again be part of our staff this summer! Steve is thrilled to come to Sweden and recruit future Bruins players for his team.
Austin Bruins is a top team in the NAHL and is based in Minnesota. They deliver several NCAA D1 commitments every year and remains one of the top places to play in the league.